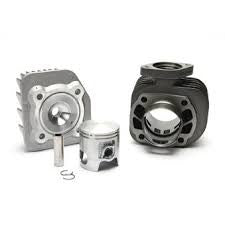 Rolling Wrench
Zuma/Vino 10mm pin Malossi 49cc/50cc to 72cc Big Bore Cylinder Kit
Regular price
$225.00
$0.00
   If you are looking to get more power out of your 50 2t scooter this big bore kit is the answer! The install in fairly easy and bang for buck its the best out there. This kit will convert your engine from a 49cc to a fire breathing 72cc :-). The take off speed will fill like double the power and the top speed will increase. Most importantly you wont loose speed on the hills like you use to. You may need to rejet the carburetor to adapt to the larger displacement on your scooter. One thing that you must do after the install of your Kymco air cooled 72cc kit,  is at the gas pump add a cap full of oil to to your gas tank (about a 1 oz). This is very important! The oil injection pump on your 2-stroke is made for a 49cc scooter and you will be installing a 72cc. This will ensure your motor is getting the extra oil it desires. 
This Malossi  cylinder kit is made in Italy by a company that races scooters and is top notch. This kit is made from Laminate caset irion. It has a recalculated heat exchange surface, a much larger and smoother transfer and exhaust port for maximum efficiency. The piston pin is reinforced, and the pistons alloy aluminum is made with a high silicon content.......... To make a long story short this kit is not only more powerful, but is made to last (as long as you add that exra oz of oil at the pump :-))
This Malossi 72cc big bore cylinder kit will fit all:
Yamaha Zuma 50 YW50

This will not fit zuma 96-01 models

Vino 2T
Yamaha Jog 50 1991-2001

 Axis Breeze

Vento Triton Zip

Hammerhead

TNG LS49 Venice

Adly: Fox, Jet, Noble, Thunderbike,

Malaguti: F10, F12, F15, Fire fox, Yesterday,

Aprilia

Italjet

most Chinese two stroke scooters

BWS 2002-2011

United Motors X-Speed 50 (00-05)

Vento Triton Zip 50

Strada 50

Muz 50

Mosquito 50

PGO -Genuine Buddy 50cc, Black Cat 50cc, and Rattler 50

Keeway

Eton Beemer and Matrix 50
This kit will only work on scooters with a 10mm Wrist Pin.
---
More from this collection