• belt • gy6 • gy6 bolts • Gy6 service manual • gy6 specs • gy6 torque • gy6 torque setting • how tight • valve lash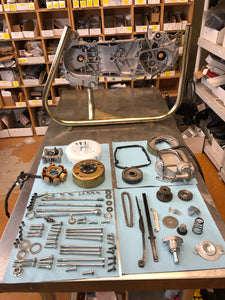 GY6 torque settings   Exhaust manifold nuts 10-14Nm Exhaust mounting bolts 30-14Nm Engine mounting nuts 45-50Nm Oil drain bolt 11-15Nm Oil filter screen cap 10-20 Nm Spark plug 10 -14Nm Crank case bolts 8-12Nm Cylinder head bolts / nuts 18Nm-22Nm Variator center nut 35-40 Nm 49cc gy6   149cc gy6 40-60NM Clutch assembly nut for spring 50-60Nm 49cc gy6    Clutch center nut 35-40Nm 49cc gy6   1  49cc gy6 40-60NM Gear box drain and fill bolt 9-15Nm 49cc -149cc gy6 Fan bolts 9Nm 49cc -149cc gy6 Valve lash adjusting nut 7 Ft Lbs (intake & exhaust lash 0.004) Standard...
---
• belt • clutch • clutch spring • cvt transmission • rollers • variator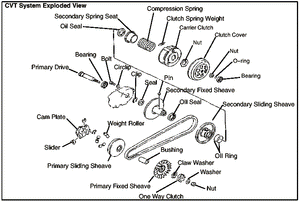 CVT (continuous variable transmission): Also known as twist and go. PARTS:*clutch shoe*drive belt*variator/pulley*variator Boss* rollers Weights*ramp plate/back plate*clutch outer/clutch bell*clutch spring*drive face SERVICE AND CHECK-UP OF THE CVT: Note:You will need special tools if you are removing the belt and additional parts.Tools needed:Universal clutch holder toolSpring compressorbasic metric tool set 1. Remove all the bolts around the crankcase 2. Remove the kickstart cover (use a rubber mallet when it wont come off after all the bolts have been removed). Shake it a little using the mallet around the case.Sometimes youll need to remove the kick gear pedal of the crankcase commonly on GY6...
---
• colorado tuning chart • Everything You need to know about carburetors • how to rejet a carburetor • How to tune a carburetor • tuning in colorado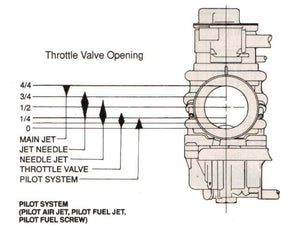 Basics of a carburetor: The carburetor consists of four components:  Pilot Jet - this controls the amount of fuel when idling Main Jet - this controls the fuel when you open up the throttle (between 50 and 100 percent power) Jet Needle - this controls the fuel when you open and close the throttle (between 20 and 80 percent power) Needle Jet - this is what the jet needle pops in and out of (between 15 to 60 percent of throttle ______________________________________________ Main jet tuning: perfect air fuel ratio is 12.5-1 Denver formula for 70 degrees at 5300 feet is...
---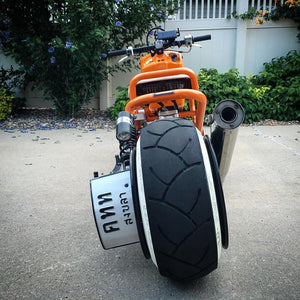 Do you think your Honda ruckus is to slow? I thought so :-) Everyone want a faster scooter. There is a solution! Check out our Honda Ruckus CVT transmission kit. Pair this with a coil combo and a promise you will have a smile on your face! It doesn't stop there. We can install a custom exhaust (kinda loud not for everyone) and a 20mm carburetor (the stock one is 13mm) so your machine can breath. Right now its its like your scooter is running a marathon with its hand over its mouth. By upgrading the carburetor and pipe your...
---
• Chinese scooter • gy6 • qmb139 • rocketa • scooter • taotao • wolf scooter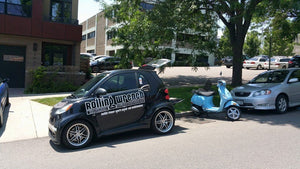 Don't get discouraged read the entire Blog! As you may already know it is very difficult to find some one to work on your Chinese scooter. Why? Because there is no support for these scooters (well most of them). It is difficult to find parts, service manuals, and what actual year make and model scooter you own. The good news is Rolling Wrench works on Chinese scooters and we have for almost 10 years! We can get you parts, a service manual, and we work on them as well! I would say we are Chinese scooter experts. In a nut...