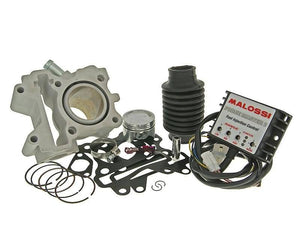 Rolling Wrench
Yamaha Zuma, C3, and Vino Malossi Big Bore Kit With Tuner
Regular price
$699.00
$0.00
CLICK HERE FOR A BIGGER AND BETTER KIT!!!!
Malossi Big Bore Cylinder Kit I-Tech 66cc 44mm for Yamaha C3, Zuma 50F, Giggle 50 4-stroke Minarelli LC 
Yamaha Zuma 50F Four Stroke EFI Liquid Cooled Big Bore Kit 66cc 

Comes with Racing Malossi CDI for higher RPM.
The Force Master 2 CDI that is included is the innovative CDI which allows to change the injection in order to fit perfectly the new Malossi 4-stroke cylinder kit. Malossi 66cc BigBore cylinder for new water-cooled Yamaha 4-stroke 50cc engines with injection. 44mm bore = 66.11cc capacity meaning great torque and improved acceleration. the supplied Force Master 2 ECU unit features 3 programs for best tune fuel consumption. Well-engineered cylinder, piston and rings. Great for daily use. 
Bore: Ø 44 mm;
Stroke: 43.6 mm;
Displacement: 66.30 cc;
Compression ratio: 1:12
Material: primary aluminium alloy with a high content of hardened and tempered silicon, cylinder liner with silicon carbide coatingin a galvanic nickel die and crossed smoothing with two diamond passages with very limited tolerances
Machining: on machine tools with high precision numerical control
Cylinder-piston connection with an allowance of 0.05 mm
Recalculated and upgraded heat exchange surfaces
Piston
Ultra compact with 3 rings
Material: special aluminium alloy with high silicon content, low thermal expansion and a tin facing on the sliding surfaces
Machining on machine tools with numerical control
Lightened and reinforced
Upgraded heat exchange surfaces
Piston rings
Special rings with high sliding ease and very high mechanical resistance
I° ring compression in nitrided and chromium steel
II° special cast iron ring
Three - piece scraper ring made of chromium-plated special steel alloy
CDI
Carburation adjusting
± 20% at min/medium/max
4 different maps:

curves 0: fuel adjustment values zeroed out (CDI excluded)
curve 1

 

: Malossi cylinder and original exhaust system
curve 2

 

: Malossi cylinder and tuned exhaust system
curves 3

 

: fuel adjustment values zeroed out (CDI excluded)
THIS WILL FIT ALL 4T FUEL INJECTED VINO'S, C3'S, AND ZUMA 50F'S
---
More from this collection