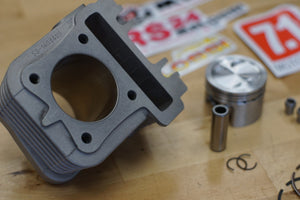 Rolling Wrench
Vespa / piaggio 80cc Malossi big bore kit 2/4 Valve
Regular price
$275.00
Sale price
$285.00
If you are looking to upgrade the power of your Vespa or Piaggio this is the answer. Once installed your scooter will literally feel like your scooter has twice the power! This 80cc big bore kit (cylinder kit) is built in Italy by Malossi. This kit not only bumps the cc's, but the compression as well! This kit will fit both 4 valve and 2 valve cylinder heads. You will not be disappointed!!!!
This kit will fit all:
Vespa lx50 (2 valve or 4 valve)
Vespa 50s (2 valve or 4 valve)
Piaggio fly 50  (2 valve or 4 valve)
Primavera 50 (2 valve or 4 valve)
Cylinder
- Material: primary aluminium alloy with a high content of hardened and tempered silicon, cylinder lined with silicon carbide coating in a galvanic nickel die and crossed smoothing with two diamond passages with very limited tolerances.
- Cylinder-piston connection with an allowance of 0.05 mm.
- Recalculated and upgraded heat exchange surfaces.
Piston
- Hypereutectic alloy construction with 3 rings.
- Material: special aluminium alloy with high silicon content, low thermal expansion and a tin facing on the sliding surfaces.
- Lightened and reinforced.
- Upgraded heat exchange surfaces.
Piston rings
- Special rings with high sliding ease and very high mechanical resistance.
- I ring compression in nitrided and chromium steel.
- II special cast iron ring.
- Three-piece scraper ring made of chromium-plated special steel
---
More from this collection