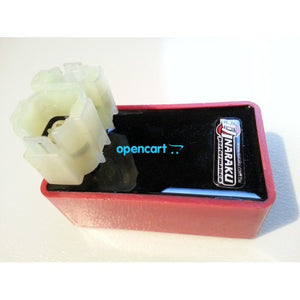 Rolling Wrench
PERFORMANCE CDI BOX GY6/QMB139 49cc 50cc 125cc 150cc 232cc
Regular price
$55.00
$0.00
If you are looking for a quick and easy performance upgrade or just a reliability upgrade for your gy6 or qmb139 scooter. This is the answer. This Performance CDI box will change the timing curve of your engine and remove the stock rev limiter. This will result in more power and a higher top speed. Side note: upgrading your CDI box isnt going to be a night and day difference, however the quality and reliability of this CDI box will! This CDI box is an A/C cdi box. Please be sure your scooter is build with a A/C cdi. D/C cdi boxes are much larger. Generally a D/C cdi scooters headlights will turn on when the key is turned on without the engine running. This cdi will fit all 4 stroke scooters from 49cc -232cc with a qmb139 motor or a gy6 motor.
This will fit all:
gy6 engines (with a/c cdi)
qmb139 engines (with a/c cdi)
Genuine Buddy 125cc-150cc
Taotao 49cc-150cc (with a/c cdi)
SunL 49cc-150cc (with a/c cdi)
ALL chinese scooters 49cc-232cc (with a/c cdi)
PLEASE NOTE: The cosmetics of this cdi box has changed from the picture, but the internals remain the same.
Electrical items are not returnable, please do the following before ordering: Check the plug style on your stock CDI to make sure it is the same style. Confirm whether you have an AC or DC charging system. You can determine whether an AC or DC CDI is installed by disconnecting the battery switch on ignition and try to start the scooter with the kickstarter. If the scooter starts, an AC CDI is installed. If the scooter does not start, a DC CDI is installed.
---
More from this collection