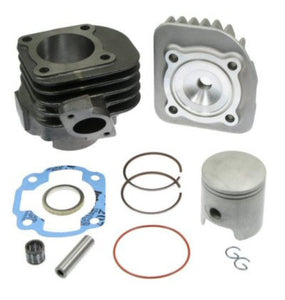 Rolling Wrench
Minarelli 2-stroke 70cc big bore kit 12mm pin
Regular price
$175.00
Sale price
$200.00
Is your scooter to slow? Thats what I thought! This big bore kit will solve the problem of loosing speed going up hills, give you about twice the acceleration power, and even give you a higher top speed. You can't go wrong upgrading your engine to 70cc. One important detail you must know is your stock scooter has a 50cc oil pump installed on it from the factory. This pumps 2-stroke oil into your engine automatically as you ride. When installing a 70cc big bore kit you must add about a tablespoon (about a cap full from your 2t oil bottle) of oil when you fill your gas up. This will insure your now 70cc engine is getting the proper oil amount. 
This kit will work on all Jog/Minarelli (or 40QMB engines. This number can be found on the left side of the engine case) 2-stroke  engines with a 12mm piston pin. If you are unsure what you have let us know your model in the comment section at check out.
Also, don't forget when putting a larger cylinder on your scooter, to upjet your carburetor. We recommend starting your jetting rich and then working your way down to the perfect mix. 
Specs:
steel cylinder
Aluminum cylinder head
Includes Wrist Pin Bearing
Supported models:
CPI/Keeway 50cc 2t
TnG 50cc 2t  
Any Mineralli Engine with upgraded 12mm crankshaft 
This kit will only work on scooters with a 12mm Wrist Pin.
 
If you want even more power check ut our stage 2 kit
---
More from this collection