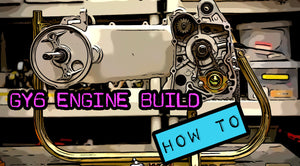 Rolling Wrench
How to build a GY6 engine [STEP BY STEP HOW TO]
Regular price
$14.99
$0.00
This video will show you step by step how to build the complete gy6 engine also known as qmi152 or qmj157. This video will include all the torque settings along with the tips and tricks we have learned over the years to make the job easier.
VIDEO WILL COVER:
crank seal install
crank shaft install
case half install
oil pump install
oil pump chain install
starter clutch and ring gear install
right crank case with dowl pin install
Stator and magneto install
piston ring install
piston and cylinder install
cylinder head install
setting the timing 
cam shaft install
valve adjustment
starter install
cooling shroud install
AFTER PURCHASING THIS VIDEO, YOU WILL ABLE TO SAVE IT TO YOUR DEVICE FOR VIDEO VIEWING WITHOUT INTERNET ACCESS.
---
More from this collection