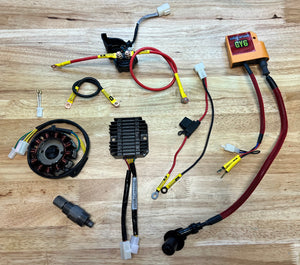 Rolling Wrench
Honda Spree adaptor GY6 harness
Regular price
$399.00
$0.00
Are you looking to do a Honda spree GY6 swap? No problem! Have your GY6 wired up to the Honda Spree in under 10 minutes. No cutting or splicing wires of any sort. Bring it back to stock in minutes if needed. You must have the stock harness installed. This is an adaptor harness. Meaning, we add our components to your stock harness to complete the GY6 harness. You also have the choice of a 11 pole or a 18 pole stator. You choose, 11 pole is standard. If you need a high powered charging system to run high output lights, a wide band 02 sensor, or maybe even a sound system, choose the 18 pole stator. If you choose the 18 pole stator it will come with the matching magneto since the original stator won't fit. this is the reason for the price increase.
Includes:
11 pole stator or 18 pole (you choose)
Rectifier regulator
Starter solenoid
Choke adaptor plug
Rolling Wrench performance CDI/Coil combo (with adjustable timing)
All wiring associated with the gy6 swap
Please allow 7-10 days before shipment. They are custom built.
---
More from this collection