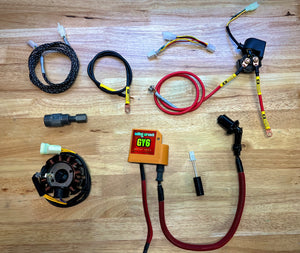 Rolling Wrench
GY6 METRUCK wiring harness (20 min install)
Regular price
$280.00
Sale price
$389.00
   Here we have the GY6 METRUCK swap adapter harness. This harness will allow you to use all of your oem controls, wiring harness, fuel pump, and even kill the engine with the kill switch correctly (unlike most harnesses they are reversed). With the GY6 swap harness you will have your METRUCK running on the GY6 150cc in around 20 min. No splicing, cutting, or soldering of any kind. We use all oem connector. Not to mention everything comes in the kit! No adding more parts to the kit to make it complete. You will get: Everyone relocates the metruck ecu and battery a little different, the user is in charger of all that, we just supply the components to make the GY6 work with your stock Honda harness. 18 pole stator comes standard in this kit. The 18 pole stator will come with the matching magneto since the original stator won't fit.
18 pole stator / magneto
flywheel puller (to install the new stator)
Rolling Wrench CDI box with ignition coil ( performance 32k volt no rev limit) 
hand control adapter plugs
starter solenoid with rubber protection cover
OEM to GY6 choke adapter plug
starter wire (thick gauge) 
 NO EXTRAS TO BUY, THIS KIT COMES WITH EVERYTHING TO WIRE UP YOUR METRUCK TO RUN THE GY6 ENGINE! Be sure your original harness is complete for this to function on your Ruckus. Also you must use the original fuel pump, if your original pump is unplugged it will not start with the electric start.
The video below is the install on a Ruckus, the Metruck is the same procedure just with longer wire to reach the battery, starter solenoid, and ecu in the rear of the Metruck. You are in charge of relocating your battery and ecu to place it in your desired area.
WHY BUY THIS HARNESS OVER THE OTHERS?
- No downgrading wires and design.
- We use a micro processor performance ignition (CDI/COIL) with this kit. This is a giant upgrade from stock!
- No reverse kill switch (kill is start and start is kill)
- No downgrading your fuel pump (keep the Honda electronic fuel pump) good from 49cc-232cc
- No Chinese rectifier regulator downgrade. Keep the quality Japanese Honda rectifier regulator.
- Everything functions like a stock Metro
- No extras to buy (unlike most others). Our kit even comes with a puller to install our new stator.
- Save hours of install time. Our harness can be installed in around 20 minutes.
- Works with all stretch kit (wide or skinny)

IMPORTANT NOTE:
You must use the stock fuel pump. A vacuum fuel pump will not work. Who would want to down grade anyways :-)
A vacuum fuel pump only pumps fuel while the engine is cranking. The stock fuel pump starts pumping before the start button is even pushed. When you let your Ruckus sit for a few days the fuel bleeds out of the fuel lines. The next time you try to start the Ruckus it cranks forever before it starts. This is the reason the stock fuel pump is a must! Other harnesses on the market require a vacuum pump. (Booooo!)
Please allow 4-5 days for production.
The following items are not acceptable for return: All High-Performance Parts, Electrical Items (Battery Chargers, Controllers, CDIs, Regulators, Stators, etc.), Oils/Chemicals (consumables) or any used parts
https://www.rollingwrenchdenver.com/pages/warranty-and-returns
---
More from this collection