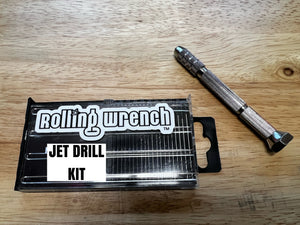 Rolling Wrench
Scooter Main Jet Alternative Tool
Regular price
$27.99
$0.00
Have you wasted money on jets you have never use? I know we have. This is the alternative to buying main jets for your carburetor. Anytime you add a performance exhaust or intake you are increasing the air flow of your engine, now you need to increase the fuel to match that new set up. We have used this solution for years, now it's time to offer it to the public. 
Kit includes:
Jet drill set (fits 49cc-250cc engines)
2 inch piece of solder (to solder the jet closed when you drill to big)
hand vise drill.
This tool will work on main jets, but in most cases it will not work on pilot jets. 
---
More from this collection