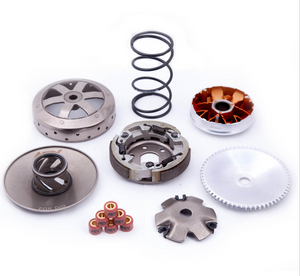 Rolling Wrench
QMB139 Performance CVT Transmission Kit
Regular price
$180.00
$0.00
This will give you quicker acceleration, higher top speeds, and makes your CVT the smoothest operating trans around! It comes with a weight of 9G rollers, but we would suggest a roller tuning kit to get you completely dialed in. From there you can find your weight and upgrade to some Dr. pulley sliders. From rapid down shifting to slow cruising, this thing is smooth. Ultralight balanced components, oversized wear pads, and state of the art PTFE coatings ensure superior performance and long service life.
Click here for the roller tuning kit.
Kit includes:
NCY aluminum drive face assembly
NCY pressure plate with slider bushings
NCY coated Golden pulley
NCY racing clutch
NCY secondary slider
NCY clutch bell
NCY 16 x 13mm 9G Roller Weights
NCY 1000 RPM compression spring

*Kit does NOT include a belt. Click here to purchase a belt. 
NOTE: In order to install on a Genuine Buddy 50 or RoughHouse, you must reuse the OEM drive face.
---
More from this collection