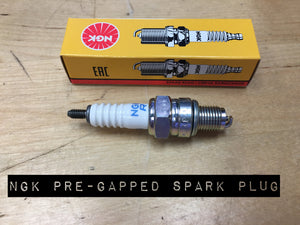 Rolling Wrench
GY6 scooter spark plug (pre-gapped)
Regular price
$4.00
$0.00
Changing your scooters spark plug regularly is super important. Remember your scooter is at max power all the time unlike our cars. The spark plugs wear at a much faster rate. If you are going to replace your spark plug, look no further than NGK. NGK brand spark plugs are the best in the industry. You will find these in all major manufactures. This spark plug comes pre-gapped from the factory. If you want to check the gap the spec is :6mm (.024") - .7mm (.028").
This spark plug will also fit:
Chinese scooters from 49cc-150cc. 
Genuine Buddy 125cc-150cc
Kymco People 125cc-150cc
---
More from this collection